02 Nov

Reinventing America for the Next Generation Workforce: Sage Clarity launches "The Idea Lab"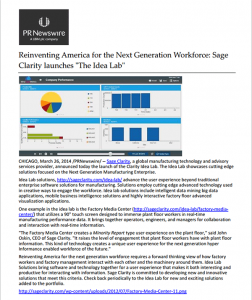 CHICAGO, March 26, 2014 /PRNewswire/ — Sage Clarity, a global manufacturing technology and advisory services provider, announced today the launch of the Clarity Idea Lab. The Idea Lab showcases cutting edge solutions focused on the Next Generation Manufacturing Enterprise.
Idea Lab solutions, advance the user experience beyond traditional enterprise software solutions for manufacturing. Solutions employ cutting edge advanced technology used in creative ways to engage the workforce. Idea lab solutions include intelligent data mining big data applications, mobile business intelligence solutions and highly interactive factory floor advanced visualization applications.
One example in the idea lab is the Factory Media Center that utilizes a 90″ touch screen designed to…