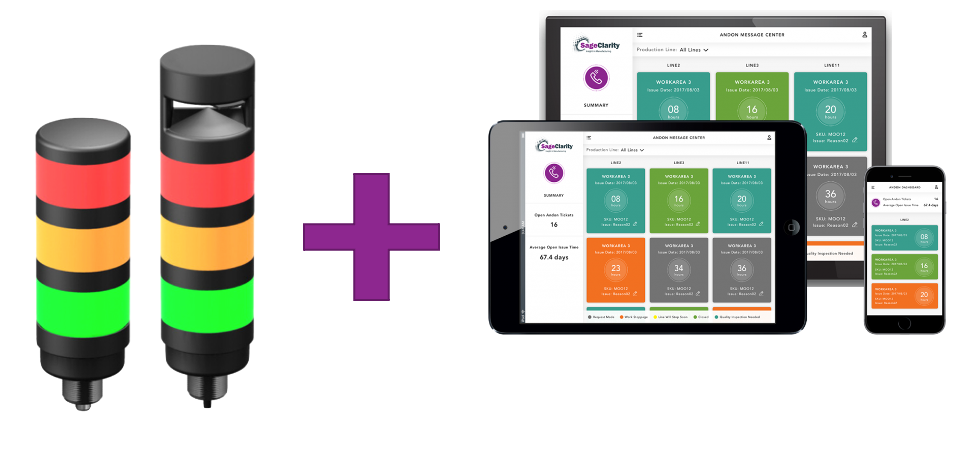 24 Apr

Next Generation Andon in an IOT world

Today's world is a hyper-competitive manufacturing environment. Challenges related to maintenance, quality, safety and delivery issues remain on the rise. We have seen in our Benchmark Studies This report analyzed over 500,000 potential causes of downtime in just a 3-month period with over 100 global manufacturers and concluded that the best-in-class performance shares something in common—a systematic approach to how they improve their operations.

Enter: A real-time, next-gen solution with alerts and notifications for tracking production issues with greater transparency. Sage Clarity's Next Generation Andon, a cloud-based software system, goes beyond just using traditional light stacks by sending real-time alerts and notifications to key personnel that improves both employee engagement and operations. Research and our own client experience shows the most successful companies recognize that asking operators to "call for help" by switching on a stack light above machines is not just sub-par, it's NOT ENOUGH.

When an operator turns on a light, do you know how long it's been on? Do you know if the right floor leader has seen it? The clock is running! Built-in reporting of this andon software provides new opportunities for management to analyze trends as operators want to make safety suggestions, ask for quality checks, or notify support when more material is needed. Plus, it's easy to connect with IoT-compatible light stacks, or via our API to connect with ERP/MES systems like Epicor's Informance EMI solution, ensuring seamless integration with our Next Generation Andon system.

We shouldn't only be worried about chasing the light bulbs – it's about time we move away from static andon boards to real-time alerts on digital signage. Who's with us?