10 Mar

Cutting The Cord: Mobilizing Manufacturing Intelligence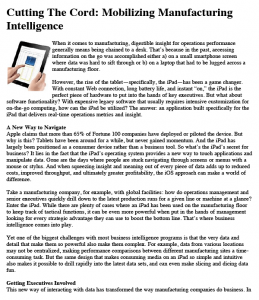 When it comes to manufacturing, digestible insight for operations performance generally means being chained to a desk. That's because in the past, accessing information on the go was accomplished either a) on a small smartphone screen where data was hard to sift through or b) on a laptop that had to be lugged across a manufacturing floor. However, the rise of the tablet—specifically, the iPad—has been a game changer. With constant Web connection, long battery life, and instant "on," the iPad is the perfect piece of hardware to put into the hands of key executives.
Article Highlights:
The iPad's operating system provides a new way to touch applications and manipulate data.
The iPad's simplicity and intuitive design make it possible to drill down rapidly into the latest data sets, and can even make slicing and dicing data fun.
The iPad's ability to make unfiltered, real-time information readily consumable also eliminates the need for interpretation or summarization, giving executives an accurate, undiluted view of every aspect of operations.