01 Mar

Closing the Perception Gap in Benchmarking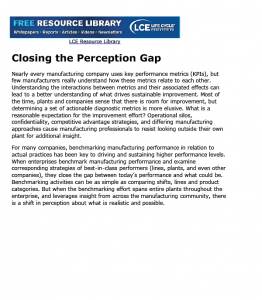 Nearly every manufacturing company uses key performance metrics (KPIs), but few manufacturers really understand how these metrics relate to each other.
Understanding the interactions between metrics and their associated effects can lead to a better understanding of what drives sustainable improvement. Most of the time, plants and companies sense that there is room for improvement, but determining a set of actionable diagnostic metrics is more elusive.
Close the Gap…
With Internal Benchmarks such as OEE
By Looking To Other Industries for Insight
With Survey Data
With Rich Real-Time Information