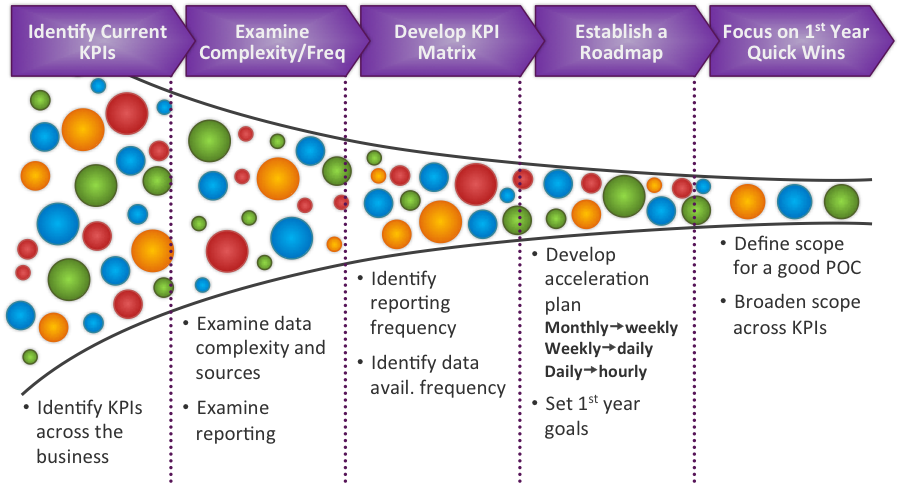 12 Jul

Introducing The Sage Clarity Static to Real-Time KPIs Framework™
Static to Real-Time KPIs
Developing a strategy to migrate from static to real-time KPIs is a journey. We have developed a 5 step process to help companies with this endeavor.
Identify your KPIs
Take an inventory of KPIs across the business and catalog them. The suggestion is to use a hierarchical taxonomy in these three levels:
Level I (Highest Level): KPI Group
Level II (2nd Highest Level):Primary KPI
Level III (Lowest Level): Supporting KPIs
Example taxonomy:
Level I: KPI Group – Work Order Compliance
Level II: Primary KPI – % On Time Completion
Level III: Supporting KPIs – Planned work orders, Unplanned Work Orders
Examine KPI Complexity and Frequency
Complexity for this step refers to items such as:
Business Priority:   KPIs which offer a material impact to the business and shareholder value
Data Sources:  The IT systems where this data is generated and/or stored – ERP, EMI, MES, Quality, etc.
Update Frequency:   How often is the data for the KPIs updated
Review Frequency:   How often are the KPIs reviewed.
The last two items provide a true assessment if the KPI in question can be real-time immediately: if a KPI is updated monthly, the real-time possibility may not be immediate. Weekly and Daily KPIs are the most real-time ready.
Develop a KPI Complexity Matrix
Using the KPI complexity and frequency information gathered from the prior step, we could create a matrix with the following items:
KPI Group
Business Priority
Data Sources
Data Complexity
Application Complexity
Define a Long-Term Roadmap
When migrating to real-time, consider what can be accomplished in a reasonable time frame. Also consider whether data collection and reporting strategies may need to change. This can involve investment in technologies over and above the typical business intelligence costs which results in a multi-year strategy. For example, real-time KPIs for labor reporting may require a new workforce management system. Such an investment represents both significant costs but also significant benefits on a longer time horizon. An organization which just implemented a modern ERP system may have easy access to inventory; therefore inventory-based KPIs are candidates to implement sooner.
Identify 1st Year Quick Wins
By migrating toward real-time KPIs, has the business function that the KPIs support improved in performance? How has the real-time behavior impacted this improvement? We also identify the challenges with a real-time KPI migration and can determine how the organization can move forward with more KPIs in the future.
Summary
Each of the above steps can be a chapter of its own and will be covered in detail in future posts. One of the primary results of a real-time KPI migration will be a reduction of the KPIs – not all KPIs need to be real-time. Utilizing the real-time KPI maturity framework will provide a path to success.