16 Oct

Swimming in the Shallows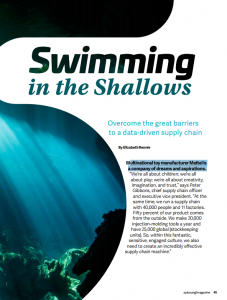 Overcome the great barriers to a data-driven supply chain
Because Mattel is an exceedingly seasonal business, as many as 80 percent of its products are modified annually. "We can't just hope it all works out; we need a data-driven mentality that allows us to make better decisions and drive the right kind of improvement," Gibbons says.
Shallow-dive analytics is a new approach to managing the enormity of big data and the resulting information overload via a one-click, quick review of only the information that is most pertinent to business objectives. By focusing on key performance indicators (KPIs), proponents believe that the shallow-dive concept can enhance supply chain performance through better and less-time-consuming data management.
Read the full article to learn how Mattel uses Shallow-dive analytics to improve their supply chain performance.