14 Nov

Cloud-based analytics solution targets high-volume packaging lines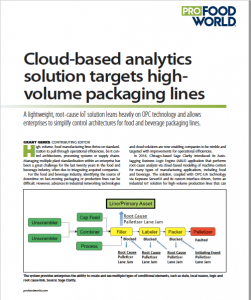 A lightweight, root-cause IoT solution leans heavily on OPC technology and allows enterprises to simplify control architectures for food and beverage packaging lines.
High-volume, food manufacturing lines thrive on standardization to pull through operational efficiencies, be it control architectures, processing systems or supply chains. Managing multiple plant standardization within an enterprise has been a great challenge for the last twenty years in the food and beverage industry, often due to integrating acquired companies.
For the food and beverage industry, identifying the source of downtime on fast-moving packaging or production lines can be difficult. However, advances in industrial networking technologies and cloud solutions are now enabling companies to be nimble and targeted with improvements for operational efficiencies. In 2016, Chicago-based Sage Clarity introduced its Autotagging Business Logic Engine (ABLE) application that performs root-cause analysis via cloud-based modeling of machine centers for many types of manufacturing applications, including food and beverage.