27 Sep

Diageo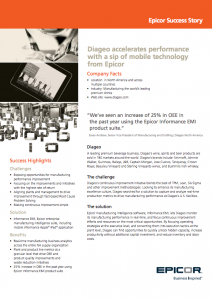 Diageo accelerates performance with a sip of mobile technology from Epicor
About Diageo
A leading premium beverage business, Diageo's wine, spirits and beer products are sold in 180 markets around the world. Diageo's brands include: Smirnoff, Johnnie Walker, Guinness, Baileys, J&B, Captain Morgan, Jose Cuervo, Tanqueray, Crown Royal, Beaulieu Vineyard and Sterling Vineyards wines, and Bushmills Irish whiskey.
The challenge
Diageo's continuous improvement initiative blends the best of TPM, Lean, Six Sigma and other improvement methodologies. Looking to enhance its manufacturing excellence culture, Diageo searched for a solution to capture and analyze real-time production metrics to drive manufacturing performance at Diageo's U.S. facilities.
Learn how Diageo used Sage Clarity's manufacturing software to create a 25% increase in OEE in a year since using Epicor Informance.