20 Oct

Manufacturing KPIs: Static to Real-Time and 50 to 10

Fewer than 20% of companies say that "everyone" in their business gets the numbers they need to make day-to-day decisions (according to The Advanced Performance Institute). To steer the business properly, leaders need a long list of KPIs – usually on a monthly basis.

That list can get shorter, when data for metrics becomes real-time.

Maybe it's time to rethink key performance indicators for your manufacturing operation in context of real-time data. It means the right people and the right insight at the right time.

Consider this: Producers that shift from static information to real-time data are the real winners when it comes to operations performance, complete on-time shipments, and new product introductions. They're also the ones that can shift from monthly KPIs to weekly, weekly KPIs to daily, and daily to real-time, and in the process reduce the number of front-line metrics to just those that will have the greatest impact on operations and business performance.

What does it take to develop a KPI strategy for the next generation manufacturing enterprise?

Assess your current KPIs by business function, role, and department
Consider real-time readiness and maturity, in context of people and data sources
Create a KPI roadmap and action plan, prioritize by readiness and business value
Choose the "best" KPIs and commit the right resources
Following up on a recent blog post on manufacturing KPIs, Epicor Software recently hosted this educational webinar, featuring Sage Clarity's CEO, John Oskin. Mr. Oskin, a 25+ year veteran of manufacturing operations and performance improvement, describes how to rev-up KPIs and decision-making – to give everyone – on the shop floor, and on up to the top floor – a role in decision-making, performance and profitability.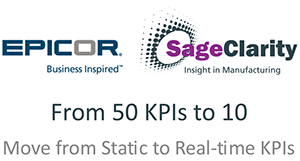 https://epicorsoftware.webex.com/epicorsoftware/lsr.php?RCID=3f715bd0516b477187ab0ec96e9a7fdc
Take a 30-minute break from your KPIs to have more impact on your business.