About This Project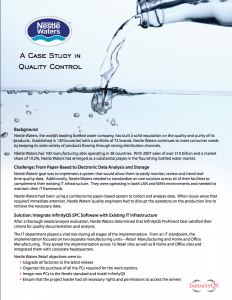 A Case Study in Quality Control
Nestle Waters, the world's leading bottled water company, has built a solid reputation on the quality and purity of its products. Established in 130 countries, with a portfolio of 72 brands, Nestle Waters continues to meet consumer needs by keeping its wide variety of products flowing through strong distribution channels.
Challenge: From Paper-Based to Electronic Data Analysis and Storage
Nestle Waters' goal was to implement a system that would allow them to easily monitor, review and trend realtime quality data. Additionally, Nestle Waters needed to standardize on one solution across all of their facilities to complement their existing IT infrastructure. They were operating in both LAN and WAN environments and needed to maintain their IT framework.
Learn how Sage Clarity help Nestle Waters improve quality control through their manufacturing intelligence software.